ABBOTS BROMLEY HOSPITAL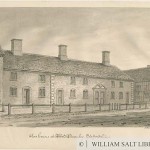 When local land owner Lambard Bagot died in 1702 he bequeathed £800 to build an Alms House for widowed or single poor men in Abbots Bromley. £200 was to be used to build the homes and the remaining sum was used (as bequeathed) to purchase land as an endowment. Each inmate was to receive a small allowance and a warm coat every second year.
Three hundred and ten years later these Grade II listed homes received a much needed renovation to modernise, enlarge and restore whilst sensitively preserving the historical integrity of the buildings. The project re-­modelled 7 small single dwellings to create 4 one bedroom dwellings and 2 two‐bedroom dwelling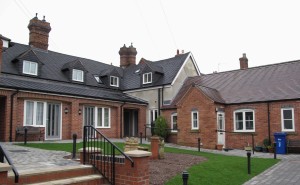 s. The surrounding gardens were beautifully landscaped to create a pretty and relaxing outdoor space for residents. Each home now has a modern kitchen, shower room, new flooring, plumbing and heating so the homes are not only warm and comfortable to live in, but energy efficient.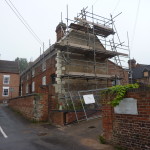 Saffer Cooper was proud to be project managers to the Trustees of Abbots Bromley Almshouses. After establishing the feasibility and availability of funding for the scheme to proceed, we assisted with the selection of the architect, Bernard Taylor Partnership and the main contractor, SCC Developments. A key component to the success of the project was securing grant funding through the Homes and Communities Agency and Saffer Cooper provided the support to ensure HCA procedures and IMS administration including the audit requirements were followed throughout. This included chairing working party meetings and frequent managerial updates.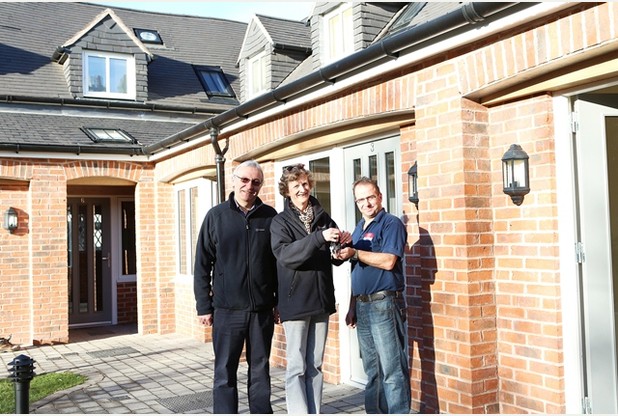 Reuben Saffer with trustee Mithra Tonking and Simon Covey from SCC Developments.
Thanks to funding from the Trustees' own assets, grants from the Homes and Community Agency, St John's Hospital (an almshouse in Lichfield) and the Baron Davenport Trust these houses will continue to provide homes for the community for many years to come.
RICS West Midlands Region Award: the Abbotts Bromley Hospital scheme received the Highly Commended award from the RICS in the residential category.