POWELL & WELCH ALMSHOUSES: THE PUMP HOUSE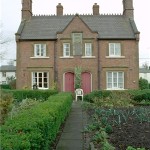 The Powell and Welch Almshouse Charity was founded in 1847 when Wakelin Welch Esq, his wife, Elizabeth Welch, and her sister, Mary Powell built three semi-detached houses in the heart of Bitteswell with views of the village green.
In 2012 a new project for the almshouse saw the demolition of the pumphouse formerly on the corner of Ullesthorpe Road and Deacon Close which gave way to the construction of two new homes. It wasn't quite that straight forward though as the land was too small for development so the almshouse purchased two additional areas adjacent to the site from the Bitteswell Parish Council and East Midlands Housing Group. This small patchwork of land was now approved for the new development.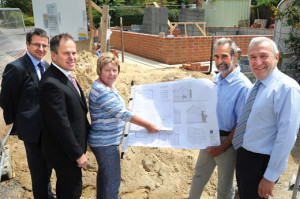 Saffer Cooper project managed the scheme from the beginning of the process and provided full support. Initially our services included guidance and feasibilities to ensure the project was viable. We also needed to work with planners to ensure planning for demolition and rebuild could be achieved in this conservation area. During the project management phase our services were to report to the trustees, assisting with contractor selection, legal requirements, preparing a risk register and managing all financial aspects of the project. Financial management included securing grant funding from the Homes and Communities Agency as well as ensuring all the IMS work was completed on time and ensuring audit requirements were met.
The homes were completed in January 2014.
National Almshouse Association Patrons Award: The Powell & Welsh Almshouses received a Highly Commended award under the annual scheme of which Prince Charles is the patron.